2016 Rally - Where and When

---
The Basics...

WHAT, WHEN, WHERE.
Welcome to the 2016 ADVMoto Rally! Join us for a fun weekend of riding, training, presentations and great food only a couple hours away from Washington DC in Romney, West Virginia. Improvements have been made after getting feedback from nearly half of 2015's attendees. The ADVMoto Rally is now an extra day longer for folks who visit from farther away to have more time to enjoy the area. This also allows for more training while still having a day to ride the tracks.

In addition to a limited 200 seats for the Rally, we also have 60 spaces available for a half-day of Beginner and Advanced ADV Training. More improvments in store...check out the info below for more details and hope to see you there!

What: ADVMoto Rally 2016

When: September 22-25, 2016

Where: The Wapocoma Campground is conveniently located off Rt. 50 just south of Romney, West Virginia. In the middle of the Apppalachian mountains bordered by the South Fork of the Potomoc River, this years venues include some updates mentioned below. We got last year's survery reposnes and have made some improvements.

For more location details and directions, see below and visit the Directions page of this site.

Tentative Itinerary:

Thursday:

• 12pm: Open Registration, Check-in and Set-up
• 7pm: Guest Speaker: Patrick Trahan - Road to Rally!
--------------------------------------------------------------------------------------------------------------------------------------------------------
Friday:

• 7am-8am: Breakfast- Food will be available by concession starting at 7am and stopping at 8am
• 8am: Ride Briefing
• 8:30am-4:30pm: Training/Riding | 8:30am-Noon Classes
• Noon-1:00pm: Lunch
• 1:00pm-4:30pm: Class ride
• 4:30pm-6pm: All you can eat buffet style dinner! See site for menu details. Service stops at 6pm
• 7pm-9pm: Featured Speakers - Simon and Lisa Thomas - http://2ridetheworld.com/
• 9pm-10pm: Headlight Contest! Whose lighting system can beam the brightest and farthest?
--------------------------------------------------------------------------------------------------------------------------------------------------------
Saturday:

• 7am-8am: Breakfast- Food will be available by concession starting at 7am and stopping at 8am
• 8am: Rider Briefing
• 8:30am: Group photo!
• 8:45am-4:30pm: Training/Riding | 8:45am - Noon Classes
• Noon-1:00pm: Lunch
• 1:00pm-4:30pm: Class ride
• 4:30pm-6pm: All you can eat BBQ! As long as you're done eating by 6pm!
• 6pm-7pm: "Taste of Scotland" presented by Scottoiler
• 7:00pm-9:00pm: Prizes, prizes, and more prizes!! Prize Awards Ceremony- Lots of prizes to give away. Must be present to win so please be there when your name is called.
• 9:00pm-10:30pm: Unwind with some great beverages and Bluegrass by Jake and the Burtones

Sunday:

• Have a safe ride home!
---

LOCATION AND LODGING
The Wapocoma Campground in Romney, WV

Lodging:
This event will be mostly motorcycle and tent camping! Registration fee will include primitive camping spot right next to the river with trees for shade. This year there will be limited space for trailers and hookups but you should contact Wapocoma Campground and arrange the fees for that separately. Trailer camping is NOT included in the registration fee!
Amenities:
Wapocoma Campground has a proper bath house with flush toilet and showers very close to the camp sites. Almost every campsite includes it's own fire pit and picnic table. More info and images on the venue will be made available closer to the Rally.
Address:
Wapocoma Camp Ground
South Branch River Road
Romney, WV 26757
Website:
http://wapocomacampground.com/
Phone:
304.822.5528
GPS Coordinates:
Camp-site: 39.286991, -78.804945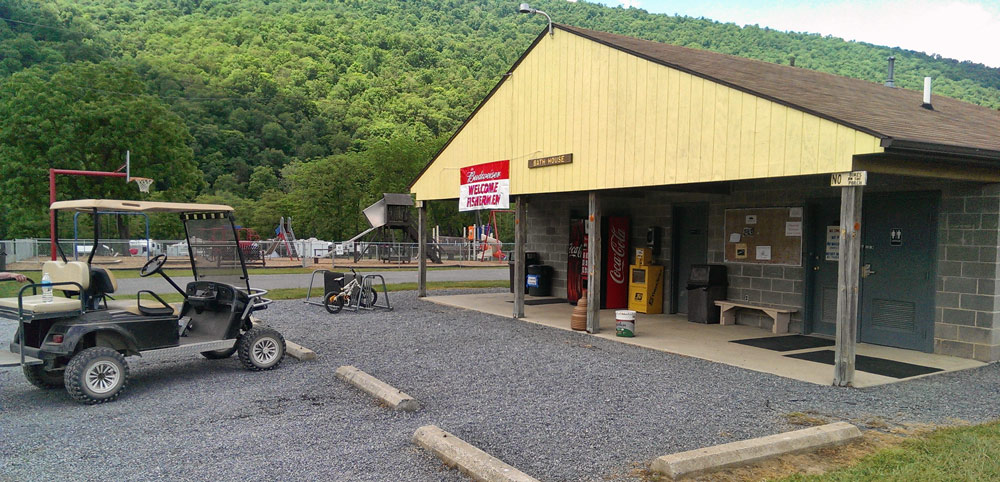 Check-in Procedure:

As an AMA sanctioned event, all riders must sign the standardized AMA waiver and give it to the ADVMoto Check-in Tent before being assigned a camping spot. We will also do a quick check of your tire pressure and chain for safety reasons before being issued a Rally 2016 Decal. THIS IS NOT OPTIONAL.
ADVMoto will provide dinner on Saturday. Concession stands will be available at all other times. Please see the "Features and Food" link for more details.
Features and Food (click to expand)
FEATURE PRESENTATIONS
In addition to the rider training we'll have some entertainment on hand!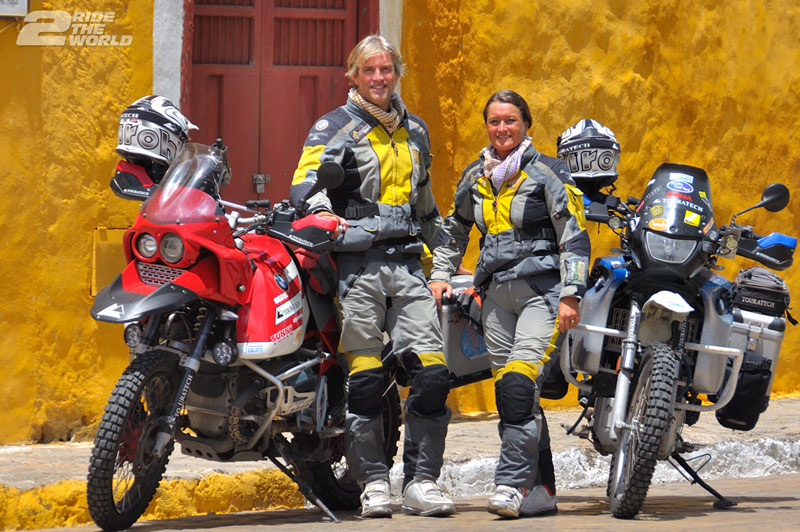 Feature Presenters: Simon and Lisa Thomas from 2RidetheWorld.com.
Considered by many as the world's foremost adventure motorcyclists, adversity is nothing new to this pair who confesses to thriving on a challenge. Prior to their start of their 13-year global motorcycle odyssey, Simon Thomas was the VP of his own telecoms company and Lisa worked with a small team of IT professionals responsible for a major UK utilities company.
With a host of business successes and having surpassed multiple world records, they passionately share their thoughts on taking personal responsibility, life goals and transforming thought into action. Unlike many other public speakers they are also candid about their failures and how this aspect is a vital part of the learning cycle. Both Simon and Lisa speak earnestly about how maintaining a positive attitude in the face of adversity is crucial.
More details on Simon and Lisa's adventure coming soon. For more info, please visit,
2RidetheWorld.com
and check out their many stunning images, stories and videos.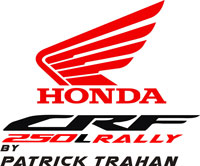 On Thursday night Dakar Racer and
CRF250L Rally
Project creator
Patrick Trahan
will talk about his background in International Rally Racing starting late in life on a KLR650!
Patrick Trahan
is a dream chaser and entered the world of rally racing with virtually no experience on a KLR 650. His stories of failure and triumph will connect with anyone who has wanted to challenge themselves to be part of something big. From bump-starting his bike using a camel at a rally, to barely surviving a head-on collision during a charity ride, Pat's adventures engulfs his audience and takes them on a journey that is sure to inspire.
Patrick is currently working on his CRF 250L Rally project, a bolt-on kit that can be installed on a stock 250L to give the windprotection, instrumentation, and look of a competition rally bike. He plans on using his current CRF 250L to race in upcoming events including Dakar.
Race History:
• 1998 Atlas Rally
• 2000 Paris Dakar
• 2001 Paris Dakar
• 2002 Dubai Rally
• 2005 Pharaons Rally
• 2007 Baja 1000
To close out Friday night is the
Twisted Throttle
Headlight Workshop with Shootout hosted by Twisted Throttle owner Erik Stephens.
Erik will give you the low down on good lighting and be awarding a new Denali D4 to the looser!
Brooks Cycles
will be on hand to provide service and trailer support. We'll be checking everyone's tire pressure and chain tension at check-in. Those who would like thier chain tensioned and lubed can do so for a nominal fee!
---

FOOD AND MUSIC
Registration cost includes a catered breakfast and dinner buffets on Saturday. Attendees will be able to get food from vendor trucks at a reasonable price on Friday night and Sunday morning.

Saturday's gonna be stuffed with good food from folks at
Gourmet Central
in nearby Romney, WV! Both breakfast and lunch will be buffet style with plenty of food on tap, including a bigger PIG ROAST on Saturday night! Gourmet Central has been farming for eight generations and only uses local fresh ingredients in their food. In addition to event catering, they also make their own BBQ sauces, salad dressing, pie filling, syrups, jams, chutneys and more. Important Note: ** FOOD WILL NOT BE HELD FOR RIDERS WHO RETURN TO CAMP AFTER 6PM!!!***

• Breakfast Buffet Menu:
Sausage, biscuits, gravey, eggs, bacon, whole fruits, coffee, juice and lemonade.
• Dinner Buffet Menu:
BBQ whole roast pig, BBQ chicken quarters, roasted sweet corn, coleslaw, potato salad, broccoli and cauliflower salad, baked beans, rolls, garden salad and mixed fruit crisps for desert!
Music
-
The Allegheny Ramblers
came to existence by the chance meeting of members Leon "Burt" Hart, Travis Holliday, Ryan Spangenberg, and Robbie "Dr. Fiddle" Mann at the crossroads of Glenville, WV. Through a shared appreciation for traditional music and beyond the four began pickin' together, calling themselves
Allegheny Ramblers
because, well, it's a region they frequently travel, and rambling best describes the manner in which they generally go about said travels.
The Allegheny Ramblers
have been wandering the Allegheny mountain range since 2013, pickin' away to try and earn a meal while becoming more acquainted with the road each passing week. Since these ramblings began,
The Allegheny Ramblers
have produced two albums, available as CD and online, and have traveled extensively with the hopes of making you dance.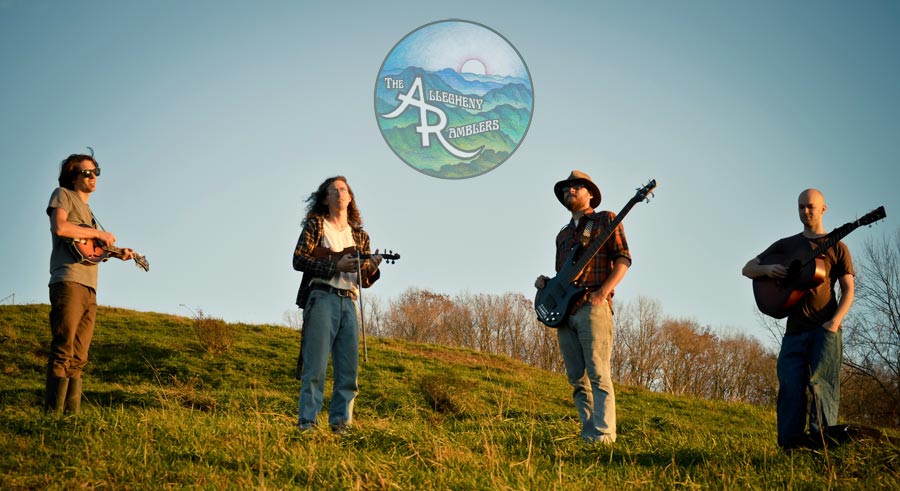 ---
FARTHEST TRAVELER CONTESTS
The Farthest Traveler Contests are hosted by Staubwolke and Outback Motortek. One BMW F700/800GS owner and one Honda Africa Twin owner will be awarded a set of crash bars for his or her bike. The prizes go to who ever rode their F700/800GS or Africa Twin the farthest to attend our event.

Crash Bars for Honda Africa Twin by Outback Motortek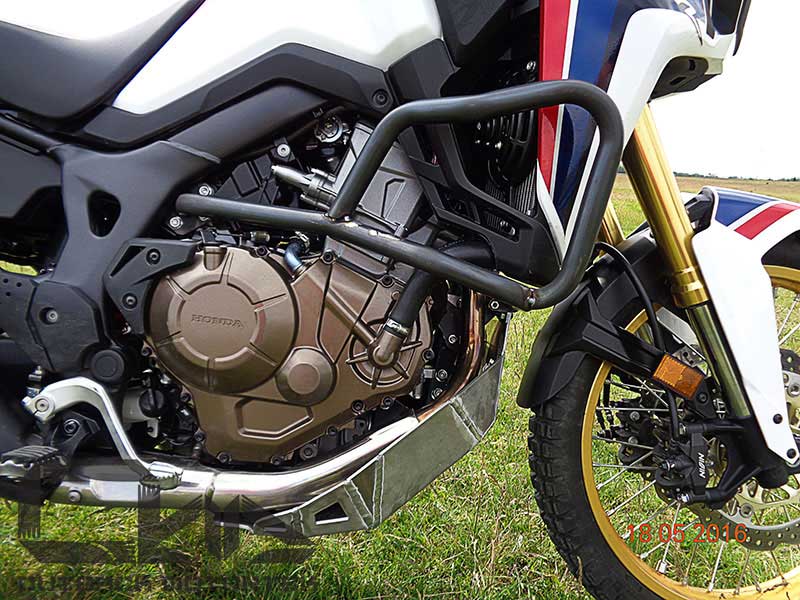 Crash Bars for BMW F700/800GS by Staubwolke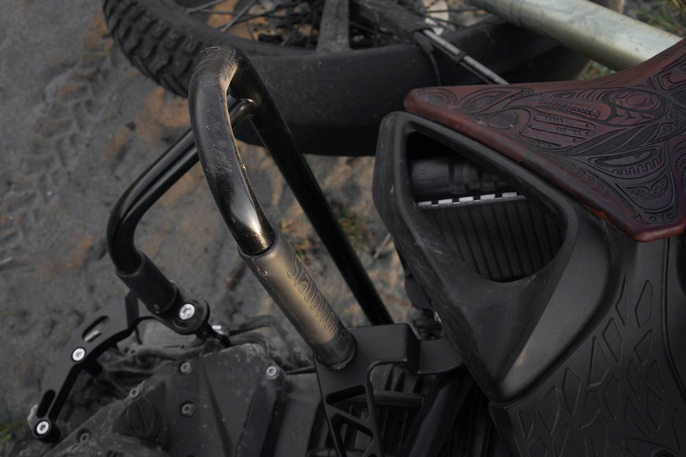 ---